Bitumen Spraying Machine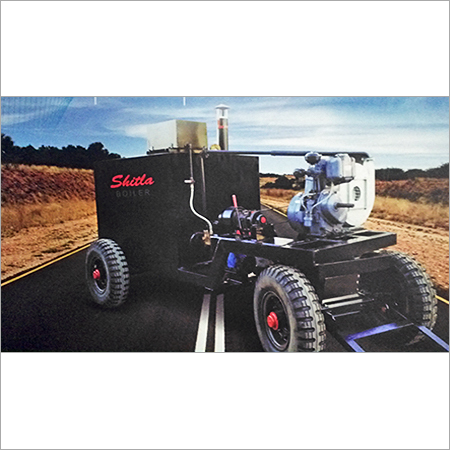 Bitumen Spraying Machine
Price And Quantity
Product Specifications
Product Description
We are glad to introduce ourselves as one of the reputed manufacturers, suppliers and exporters of Bitumen Sprayer, Full Circulating bitumen Sprayer Widely used for surface dressing applications and tack coat work in road construction, offered sprayer is provided with the capacity of 2.5 ton. Offered sprayer is also applicable in emulsion and bitumen related applications. We manufacture these sprayers using premium quality MS Sheet of 5 mm thickness which are further insulated by glass wool or ceramic wool with thickness ranging up to 50 mm. After this, Bitumen Sprayer is covered by 18 gauge G.I. Sheets.
The Bitumen Spraying Machine, which we offer, is applicable during construction of roads and other construction projects, where the use of bitumen is required. The blowers and burners installed in these sprayers are used to maintain the heat which prevents the bitumen from solidifying. These sprayers can be operated continuously for a long time as these can contain a huge capacity of bitumen. The nozzle of the sprayers is connected to a bitumen pump for easy spraying at variable speeds. Furthermore, we are able to offer the Bitumen Sprayer which is fitted with wheels for easy mobility for vast road construction.
Features of Bitumen Spraying Machine
1) MODEL : SRE 2500
2) Tank Capacity : 25000 Ltr
3) Insulation : 50 mm
4) Man Hole : 450 mm
5) Shape : U Shape / Rectangular Shape
6) Mountings : Self chassis mounted on wheels
7) Pipe Length & Type : 3 mtr.Lg. & S.S. Corrugated Pipe
8) Bitumen Pump : 1 1/2 x 1 1/2 Positive displacement Pump
9) Air Compressor / Blower : 3 HP Standard make / 5 HP
10) Engine : 8 HP Air Cooled diesel engine
11) Pneumatic Gear : Size 7.50 x 16
12) Burner : Fuel consumption 7-8 Litr./Hr.
13) Reduction Gear : Heavy duty Worm Gear
14) Engine Fuel Tank Cap. : 5 Litres
15) Burner Fuel tank Cap. : 20 Litres
16) Hand Spray Nozzle : Available
Technical Details of Bitumen Sprayer:
1) Fuel Tank : Diesel
2) Wheelbase : 2310mm
3) Spray Nozle : Single spray Nozzle
4) Dimension : as per order
5) Total weight : 4800kg approx.
6) Tank capacity : 2500L approx
7) Spray width : 2000mm approx.
8) Max. Power (kw/r/min) : 92/2800
9) Engine : 8 HP air cooled engine
10) Pneumatic types size : 900 x 20
11) S.S. corrugated pipe : 3 mtr. length
12) Capacity : Blower 5 HP capacity & optional air compressor
13) Tank Structure : Stainless steel out cover and convenient for cleaning